Thursday, August 31, 2006
Oooo Ooooo Look!
I did it! I figured out how to change the linkes at the side of my page!
<- <- <-
There's not much to report in the way of knitting, and still no pics due to lack of batteries. But I did start the portland sweater from the valley yarns cataloge! Due to morning sickness, it is still only an inch and a half long, but started non the less! :) Im using k1c2's angora soft in moss green, and am loving it!
Oh! and I sent off my final package for sp8 (morning sickness also delayed that timeline!) And I signed up for sp9! Hopefully I will be feeling better this fall, so as to not delay the sp9 deadlines! :)

Friday, August 25, 2006
The latest WIP (work in progress)...
....is gonna be a doosie!
It already has me all worked up to the point of sickness! And I still have a minimum of seven months to go on it! That's right, I'm having another baby! :)
I've been too sick this far to really get excited, but I'm praying that the curse of morning (*all day*) sickness will fade soon!

I have got some actual knitting done in the last few weeks, but yet to have pictures (blasted batteries!). Hopfully that will change someday soon :) right now I think I need to go upchuck some more, blah!

Wednesday, August 09, 2006
What I did on Friday (8-4-06)....
I gave 14 inches of hair to Locks of Love!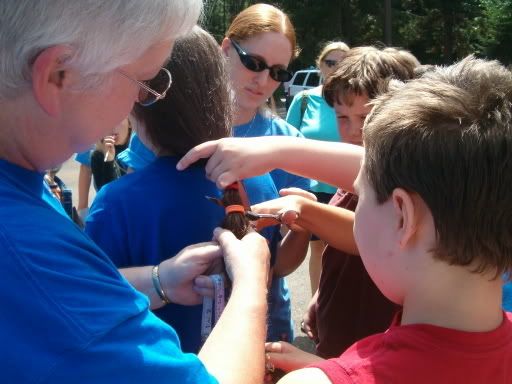 The prize for the team who brought the most pennies for the VBS offering was 3 of them got to cut my hair! Yup! Three 10-12 year old boys got to cut 14 inches of my hair off!!! And of course, with Gods infinant humor, it was the 3 most roudy boys in VBS! :( But they followed the rules and did a good job! :) The total offering was over $260! which is going to support the migrant workers VBS in yuba city!
sorry this is such a past due post, but I was having difficulties posting pictures for a while there, don't know why, but here it finaly is! :)
Tuesday, August 01, 2006
short and sweet
It is VBS week here (Vacation Bible School) , so I am short on time to blogg, but here is what I sent my sp8:
I thought the cable needles were soooo cool! I have never seen stright cable needles before!

and here is the bag I made for lil miss Ivie:
From what I heard, she didn't even notice it in the gift bag at her party (there was also a book for her in there) and it almost got thrown away! That really would have made me cry! But luckly, her mom found it last minute... I guess Ivie just isn't a purse girl, oh well.